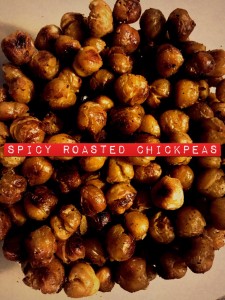 These delicious little chickpeas are super easy to make and will pick you up from that afternoon lull. They have a spicy kick from sriracha…a hot sauce that you could literally put on anything. Spicy foods boost the metabolism and may also help you to eat less. Chickpeas themselves make a nutrition-worthy snack. Why? They are nutrient-dense, packed with high protein and fiber to keep you feeling fuller longer. 1/2 cup serving of this spicy variety comes in under 200 calories. Want to give it a go? Here's how:
Ingredients:
Chickpeas, 2 cans, rinsed & drained (look for no salt added)
Sea salt, to taste
Olive oil, 3 tablespoons
Sriracha, a few squirts
Preheat oven to 400°F. Line baking pan with foil. Rinse & drain chickpeas in colander and blot to dry. Next, add chickpeas to your pan along with olive oil, salt, and sriracha. Mix together so chickpeas are evenly coated. Bake for 40 minutes. Make sure to shake the pan every 10 minutes so that the chickpeas get an even crisp. Cool and enjoy, sans guilt!