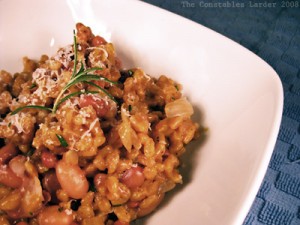 I recently returned from a short stay in San Juan, Puerto Rico and before heading there, decided I could use a week-long health kick to get beach body ready. No beer, chips, sushi or anything potentially bloat-inducing. I also challenged myself to eat only whole grains (no refined or processed grains allowed) and became pretty creative in my cooking. Interestingly enough, my favorite meal from the week involved an ancient throwback,
farro
. Farro (pronounced FAHR-oh) might be completely new to you, but it has been around forever – really, it is documented as the oldest and original grain cultivated by humans in the fertile crescent of the Middle East. It was the primary grain used by the Roman Empire and is still widely used throughout Italy today.
Nutritionally, farro is a rich source of vitamins and is high in fiber and protein, so it will keep you feeling fuller longer (a big plus). It imparts a nice, nutty flavor and adopts the taste of whatever you decide to mix in. While it might seem intimidating to cook with this ancient grain, it's actually extremely easy to prepare and very versatile – you can throw it in soups, use it as a foundation for salads, or even eat it as a wholesome breakfast cereal. I bought pearled farro, meaning the hull of the grain is removed, which shortens cooking time though leaves nutrients intact. It only takes about 15 minutes to cook in water, just slightly longer than pasta!
My personal recipe is simple, but so delicious (even I was surprised):
Farro with roasted tomatoes, asparagus, and sauteed shrimp
Ingredients:
Pearled Farro
Cherry tomatoes, halved
Asparagus, cut into threes
Shrimp, cleaned and deveined
Garlic, minced
Extra virgin olive oil
Salt & Pepper (to taste)
Parmesan (optional)
Parsley, roughly chopped (optional)
Start by boiling your water first and cook farro according to package directions. Cut cherry tomatoes in half and asparagus in three sections, removing ends. Line a cooking sheet with aluminum foil, lay out vegetables, drizzle with olive oil, and sprinkle with salt and pepper. Cook vegetables at 350 degrees for 20-30 minutes (I do 30 because I like my asparagus more crispy and the tomatoes get super sweet!) On high heat, pour olive oil in saute pan (be careful not to use more than a few tablespoons here) and once the oil is translucent, add a teaspoon of minced garlic. Saute until golden brown, just 1-2 minutes,  and add shrimp to pan. Cook shrimp for 2-3 minutes on each side, until pink.
Once you drain your farro, serve hot and add the vegetables and shrimp – I just mix all of this together in my bowl. Top with parmesan cheese and parsley. Eat and be amazed at how much you like farro. Unfortunately, I forgot to take a picture of my dinner but I'll be coming back with more of my own recipes and the real-life photos to match.