Jennifer is a Registered Dietitian (RD) and Certified Dietitian-Nutritionist (CDN) seeking to blur the lines between great food and good health. Her foray into Nutrition began at New York University,
where she followed her passion and

graduated with honors in Nutrition & Dietetics. Jennifer completed a competitive Dietetic Internship at Hunter College in NY to obtain her licensure. Throughout, she gained experience in Clinical, Private Practice, and Community Nutrition.
Jennifer further continued her studies at the University of Saint Joseph to obtain a Master's of Science (MS) degree in Nutrition.

Jennifer has experience working with various patient populations and has been involved in counseling for multiple diet regimens. Aside from private counseling, she currently works as a Territory Business Manager for Mead Johnson Nutrition in NYC.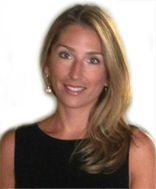 Jennifer is an active member of the Academy of Nutrition and Dietetics and NYS Dietetic Association. She is also Board Certified in Adult Weight Management with the skills to efficiently address clients' individual weight concerns using modern, evidence-based research. Her special expertise comes from several years of nutrition counseling and public speaking engagements within the Weight Reduction Surgery Program at Montefiore Medical Center in NYC, a Bariatric Surgery Center of Excellence.

Specialties include: Medical Nutrition Therapy, Weight Management, Maternal Nutrition (pre/postnatal), Disordered Eating, and Overall Wellness.
Jennifer lives and works on Manhattan's East Side. She is an avid runner and yogi with a love for local, whole foods and dry wines. Modifying recipes for health and testing them out on friends & family only comes naturally.

MEDIA HIGHLIGHTS

Advice on best options for healthy canned soup (slides 4&5) Mensfitness.com

Poll: Few Americans Know All the Risks of Obesity - the AP NPR.org

See what Jen has to say about red wine (good news!) on slide 4/8 Grandparents.com

Scan Jen's column for smart nutrition, fitness & weight loss tips NY Diets Examiner